Current Issue
CONTENTS of Volume 27, Number 2, December 2021
Auditors' Response to Audit Fee Lowballing: The Change in Audit Hours and Hourly Audit Fees
Author
SUNYOUNG PARK, EUGENIA Y. LEE, JONG-HAG CHOI
Keywords
auditor change, lowballing, audit hours, hourly audit fees
Download
This study examines how lowballing auditors adjust audit hours and hourly audit fees. Using Korean data, we first find that both lowballing auditors and other auditors increase audit hours in the first year of an audit engagement. However, only lowballing auditors charge lower hourly audit fees in the initial year. The results suggest that lowballing auditors charge low hourly fees to win a new audit contract while exerting more effort to maintain an appropriate level of audit quality. Our findings mitigate regulators' concern that lowballing auditors would reduce effort and sacrifice audit quality to attract new contracts.
Information Uncertainty and Intraday Market Responses to Corporate Disclosures: A Study of the Korean Stock Market
Author
BRYAN BYUNG-HEE LEE, DURI PARK
Keywords
intraday market responses; corporate disclosures; information uncertainty
Download
Using market microstructure data, this study analyzes intraday market responses to corporate disclosures subject to Regulation Fair Disclosure in Korea and examines whether the intraday market responses are affected by information uncertainty. We show that corporate news is incorporated into stock prices in an efficient and timely manner. We further document that positive stock returns and trading volume to good news disclosures are stronger for firms with higher information uncertainty. Overall, our evidence suggests that information uncertainty plays an important role in investors' reactions to corporate disclosures.
Does Analyst Coverage Encourage Firm Innovation? Evidence from Korea
Author
WOOJIN KIM, YOONYOUNG CHOY
Keywords
corporate venture capital, financial analysts, innovation, acquisition, R&D
Download
This paper examines whether analyst coverage affects firm innovation in an economy dominated by family-controlled business groups. Using a sample of Korean publicly traded firms from 2010 to 2018, we find that an increase in financial analysts leads covered firms to cut investments in corporate venture capital and R&D. Moreover, reduction in innovation through acquisitions is more pronounced when analysts are from chaebol (family-controlled large business group) affiliated brokerages. These findings suggest that unlike in U.S., analyst coverage puts pressure on managers to meet the analysts' forecasts, thereby impeding innovation under such environment.
Seoul Journal of Business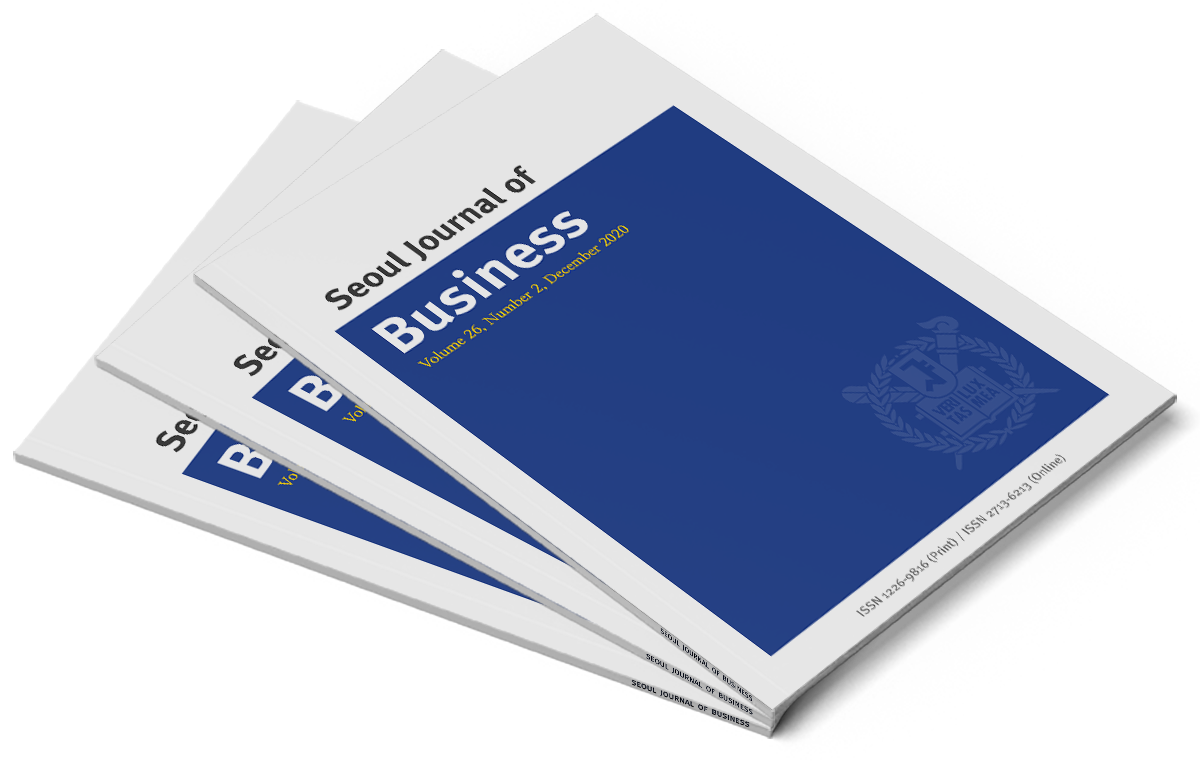 ISSN 1226-9816 (Print)
ISSN 2713-6213 (Online)